Gavi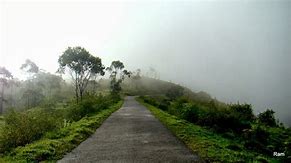 Gavi Eco-Tourism a project of the Kerala Forest Development Corporation has caught the attention of tourists, mostly from European countries. The project is exclusive in many respects and the majority who visited was nature lovers and adventure tourists. Over a short period of time visitors to Gavi gradually increased, especially after 'Alistair International' the world acclaimed tourism major listed it among the leading eco-tourism centres and one of the must-see places in India. A highlight of the Gavi eco project is the involvement of the local populace in its activities as guides, gardeners and cooks. This will provide livelihood for the locals and also will help to create awareness on conservation of nature. Gavi, located in Pathanamthitta district offers its visitors activities like trekking, wildlife watching, outdoor camping in specially built tents, and night safaris. The place is rich in flora and fauna. There are hills and valleys, tropical forests, sprawling grasslands, sholas, cascading waterfalls and cardamom plantations. Endangered species including the Nilgiri Tahr and Lion-tailed macaque are often sighted at the outskirts of Gavi. With more than 260 species of birds including the great pied hornbill, woodpecker, and kingfishers, Gavi is a heaven for birdwatchers. Another unique feature of Gavi is camping in the forests. One can pitch a tent in the camping site, which is a rarity in many Indian forests. As the dusk stretches into the silence of the night, one can feel the presence of wildlife in the middle of nowhere, an experience that cannot be explained in words. There are also tree top houses where one can enjoy the avian life to the fullest. Active involvement of tribals in Gavi makes it a unique venture of its kind in the country. Traditional knowledge of the forest and its way of life helps Gavi to sustain its surroundings in its original state.
Travel Info
: Gavi is located about 28 km from Vandiperiyar, which is 18 km from Thekkady. Nearest railway station, Kottayam is about 114 km away. Nearest airports, Madurai Airport (Tamil Nadu) is about 140 km away; Cochin International Airport is about 190 km away.
Konni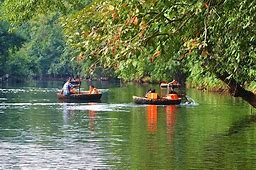 Konni is a popular training centre for elephants in Kerala. Located in the district of Pathanamthitta, it is a major centre of tourist attraction in Kerala, and attracts visitors in large numbers throughout the year. Situated about 11 km from Pathanamthitta, the main attraction at the elephant-training centre at Konni is the huge cages built of wood to house elephants. This massive wooden cage is locally known as Aanakoodu and can accommodate three to four elephants at a time. The chief task of the trainers here at Konni is to train baby elephants, which are brought to the training centre after getting separated from its herd, or found wounded and roaming lonely in the forest. Experienced trainers, who employ some of the time-tested methods to tame the baby elephants, follow systematic training methodologies. Some of the training programmes besides making the elephants to obey commands include, daily exercises in the morning, which also include a walk in the premises, followed by bath and feeding of a special diet. At Konni, visitors can get a close look at these trainee elephants and can observe and understand a lot about their behaviour, especially that of baby elephants, which are often mischievous and are focus of attention of majority of the visitors, especially children. One can also find bigger elephants at the centre, and a ride on these majestic animals is an exciting one. The bigger elephants are also some times used for works inside the forest land adjoining the training centre.
Travel Info
: Nearest Railway Station, Chengannur is about 28 km from Pathanamthitta. Nearest Airport, Thiruvananthapuram International Airport is about 119 km from Pathanamthitta.
Kodanad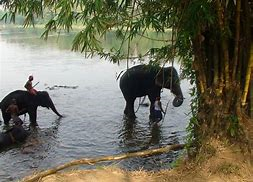 Elephants are an integral part of Indian mythology and culture. In God's Own Country, elephants are often referred to as the sons of the 'Sahya' (the Western Ghats). Once a part of every day life in Kerala, elephants are the most ornamental and auspicious animals here. No festival or celebration is complete without an elephant procession. Rows of majestically caparisoned elephants, replete with colourful silken parasols form the most spectacular part of any event in Kerala. Kodanad, set on the Southern banks of the Periyar River amid the beautiful high ranges near Perumbavoor, is one of the largest elephant training centres in Kerala. Earlier elephants captured from the Malayatoor forests (the forests in the East and North of Kodanad) were trained here. Since the introduction of a ban on elephant capture Kodanad has been reduced to a training centre. The famous Malayatoor Church is near Kodanad.
Travel Info
: Kodanad is about 30 km from Ernakulam town in the highranges on the southern bank of the River Periyar. Nearest railway station, Ernakulam is about 30 km. Nearest airport, Cochin International Airport is about 65 km .
Ramakalmedu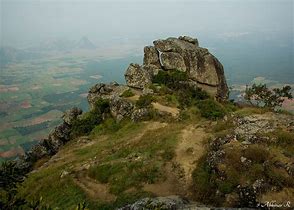 Rolling green hills and the fresh mountain air make Ramakalmedu an enchanting retreat. The hilltop also offers a panoramic view of the picturesque villages of Bodi and Kambam on the eastern slope of the Western Ghats. Now the huge statues of Kuravan & Kurathi (who spotted the location for Idikki arch dam) adore the hills.
Travel Info
: Ramakkalmedu is 16 km from Nedumkandam on Thekkady – Munnar route. Nearest railway station Aluva is 150 km away. Nearest airport, Cochin International airport is 170 km away.
Pookkot lake, Wayanad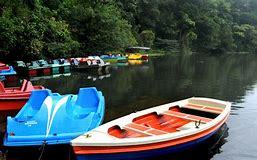 A natural fresh water lake surrounded by evergreen forest and rolling hills. A fresh water aquarium with large variety of fish is an added attraction. Tourists can also avail of boating facilities, children's park, and a shopping centre for handicrafts and spices. Wayanad lies at an altitude varying from 700 - 2100 metres above the sea level. The district has the highest number of tribal settlements in Kerala. The hill ranges of Vythiri taluk (taluk is a sub division of a district), through which the road from Kozhikode ascends the Wayanad plateau over the mind boggling bends and ridges, are the highest locations of Wayanad district.
Travel Info
: 3 km south of Vythiri town, Wayanad district. Nearest railway station, Kozhikode is about 63 km. Nearest airport, Karipur International Airport Kozhikode is about 63 km away.
Munroe Island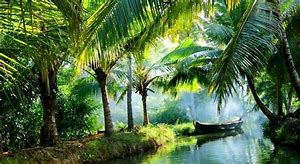 Formed by the backwaters of Ashtamudi Lake and Kallada River, this island is named after Colonel Munroe, the British Resident of erstwhile Travancore State. He is credited with having integrated several backwater regions by digging canals. The discovery of stone age tools and megaliths stand testimony to the antiquity of this islet which shelters a quaint little village. Boat cruise available from Kollam.
Travel Info
: Boat jetty in Kollam town. Nearest railway station, Kollam is about 2 km. Nearest airport, Thiruvananthapuram International Airport is about 80 km.
Thekkekudi Rock Cut Cave Temple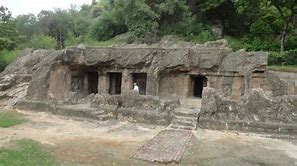 The Kaviyoor Trikkukkudi Cave Temple, also known as the Rock Cut Cave Temple, is of historical importance and is preserved as a monument by the Archaeological Department. It bears close resemblance to the Pallava style of architecture and has prompted historians to date it to a period as early as the eighth century AD. The engravings here are among the earliest specimens of stone sculptures in Kerala. Enshrined in a square cave is the main deity of the shrine, Lord Shiva, represented in the ' Shivalinga' which is about three feet high and carved out of rock. The shrine also has idols of Ganapathy, Maharshi and Dwarapalakas.
Travel Info
: Kaviyoor is 5 km east of Thiruvalla, on the banks of Manimala River. Nearest railway station, Thiruvalla is about 5 km from Kaviyoor. Nearest airport, Thiruvananthapuram International Airport is about 125 km away.
Padmanabhapuram Palace

A magnificent wooden palace of the 16th century, Padmanabhapuram Palace lies at the land's end of mainland India - Kanyakumari. An enticing edifice to any lover of art and architecture this old palace of the Rajas of the erstwhile Travancore (1550 to 1750 AD) is a fine specimen of Kerala's indigenous style of architecture. The antique interiors are replete with intricate rosewood carvings and sculptured decor. The palace also contains 17th and 18th century murals. One can see: the musical bow in mahogany, windows with coloured mica, royal chairs with Chinese carvings, 'Thaikkottaram' or the Queen Mother's palace with painted ceilings, rose wood and teak carved ceilings with 90 different floral designs. Durbar Hall of the palace has a with a shiny black floor specially made from a combination of egg white, jaggery lime, burnt coconut, charcoal and river sand, granite tubs to cool curd and buttermilk, secret underground passages, the King's bedroom with a four poster medicinal bed, mural paintings, pictures of Lord Krishna, hanging brass lanterns lit continuously since the 18th century, open air swimming bath, granite dance hall, Saraswathi (goddess of knowledge) temple, large earthen urns, room for scribes and accountants, carved figures on columns holding oil lamps, pooja (worship) rooms with jackfruit tree columns, fish carvings on the ceilings, enormous teak beams, Belgian mirrors and an outer cyclopean stone wall fitted together without mortar. Visitors to the palace are often overwhelmed by the royal splendour of erstwhile Travancore. Though the palace is situated in Kanyakumari district of Tamilnadu State, it comes under the Government of Kerala's administration.
Travel Info
: Thuckalay, 64 km from Thiruvananthapuram, situated in Tamilnadu, a neighbouring State. Nearest airport, Thiruvananthapuram International Airport is about 64 km away.
Veli Tourist Village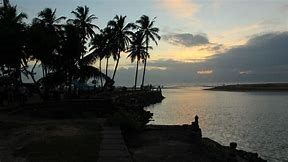 This picnic spot, where the Veli Lake meets the Arabian Sea, offers boating facilities. Pedal boats and paddleboats can be hired to explore the charms of the lagoon in a leisurely manner. For a quick ride over the waters, speedboats are available for hire. Children enjoy climbing over the huge sculptures which dot the landscape. You can also visit the Shankhumukham beach skirting theThiruvananthapuram International airport.
Travel Info
: Veli is about 8 km from Thiruvananthapuram city. Nearest railway station, Thiruvananthapuram Central is about 8 km. Nearest airport, Thiruvananthapuram International Airport is about 3 km.