Kerala Treehouse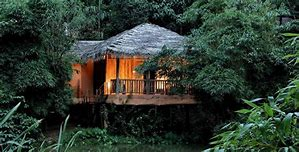 Tree houses that are built with wood on solid stilts and soar into the canopy of trees around them. Guests with an adventurous streak will find much to enjoy in the novelty of residing high above the ground, in the embrace of the foliage and the spectacular views of the plantation below from the wrap around balcony. The tree houses also offer elegant ethnic themed furnishings and the state of the art in amenities.
Top Treehouse Destinations in Kerala
Eletaria, Thekkady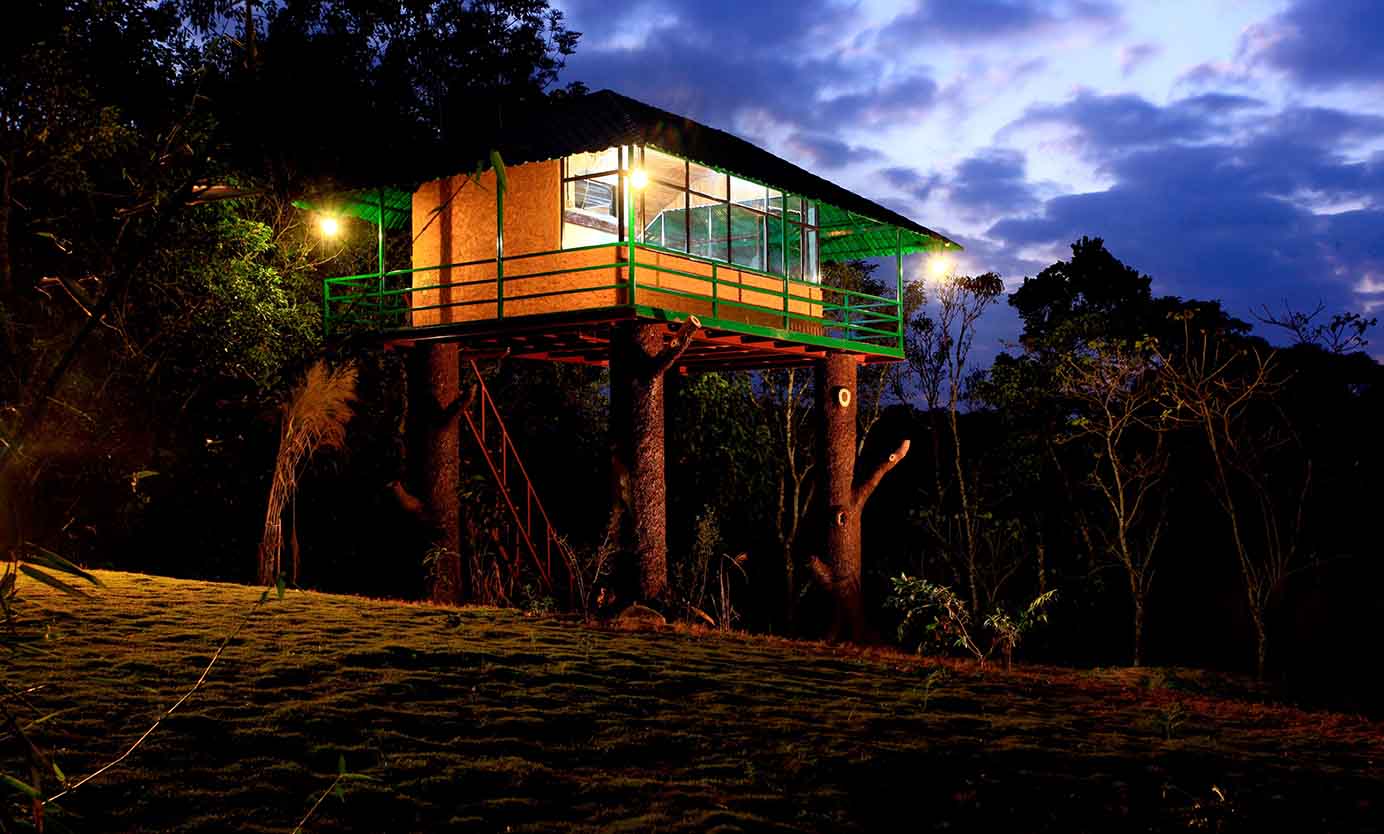 Eletaria's accommodation has been designed to blend in with the natural contour of the surrounding terrain. At the resort, rare type of trees, rich birdlife and spice gardens combine to create an ambience that is simply fascinating.All the facilities at the resort are built as Independent & Joint Cottages and construction has been done using indigenously available materials like wood, granite, sandstone and tiles.
Carmelia Haven, Thekkady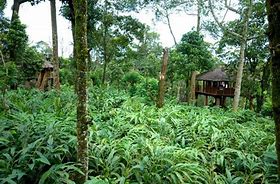 Tree House Guests with an adventurous turn of mind choose to stay in our Erumadam - a tree top wood cabin with local interiors attatched bathroom, surrounded by a balcony and offers tremendous scenic beauty is located in deep thick cardamom plantations.
Nature Zone, Munnar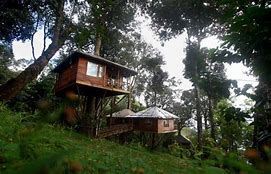 Aliquot of the dedication to the nature, Nature Zone doesn't have any solid constructions. There are 12 African Safari Luxury Tents that fully blend with the nature's landscape and 5 houses mounted scientifically on the tree tops. Not even a branch of the tree has been cut to make these houses. You will see all these dwelling stuffs only if someone points out that to you!
Ela Ecoland, Munnar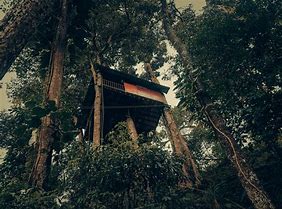 At Ela Ecoland, the first and only Green Camp in Munnar, there are only three accommodation units and a treehouse. These include a cottage with two comfortably furnished rooms and an outdoor camping tent on the bank of a stream that passes by the Green Camp. The c cottage and treehouse are prime examples of eco-friendly and sustainable construction that lean heavily on ethnic styles. The rest of the three and a half acres of fertile land is dedicated to the cause of organic farming. Food is served steaming hot using mostly ingredients sourced locally and from within the organic farm. The location of Ela Ecoland is another factor that sets it apart from the number of hotels and resorts in downtown Munnar. Situated at a comfortable distance from the business district of Munnar at Kallar, Ela Ecoland is the Camp closest to Mankulam with its unexplored evergreen forests
Eco Exotica, Munnar
Guets at Eco Exotica experience an innovative hillock life style. They stay in cottages made of bamboo and natural roofing materials. they are served nutritous homely food prepared from fresh vegetables cultivated in the farms of Wild Tulip Hillocks without the use of pesticides.
Munnar Inn Tree House, Munnar
munnar inn offers the best accommodation on Tree House (House atop tree). The tree house is situated at 2nd mile, just outside Munnar township, in a 60 acre Cardamom estate. Unlike the other tree houses in Munnar, this tree house is easily accessible from N H 49 (just 100 meters!) Set on a large tree surrounded by cardamom plants, it houses all necessary facilities (Bed Room, Balcony, Toilet and Bath Room with hot and cold water, Electricity).
Misty Munnar, Munnar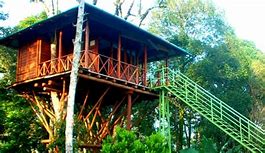 The Misty Munnar Tree house offers its guests a Square Hut. All the essential amenities like bedroom, attached bathroom with flushing toilet, telephone, shower, washbasins etc are provided in Tree houses. Tree houses are constructed without disturbing the nature, jungle, and total eco system. The Misty Munnar Tree house offer amenities of Double Bed, Attached Bathroom, 24 Hours Cold & Hot Water, 24 Hours Room Service, Parking Area, 24 Hours Security, Trekking, Cardamom Plantation Visit, Coffee Plantation Visit.
Wynberg Resort, Wayanad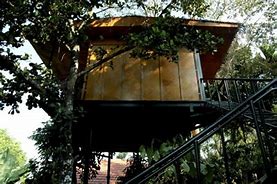 The luxury tree top is on a ven-teak tree, 18 ft above ground in an elevated place. This has got a 20x4 balxony,15x12 bed room,8x9 bathroom,4x2 dress area. The tree house also features a TV/mini bar fridge, fan, and heater etc. -more spacious and luxurious.
Tranquil Resort, Wayanad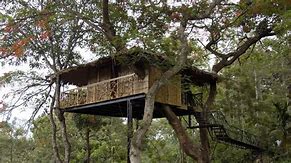 Nestled under the beauty of a Gul Mohr Tree, our luxury TreeHouse rests on three trees. At a height of 35 feet from the ground level and overlooking a valley facing north, the entire structure measures 517 sq.feet, comprising of a bedroom, a bathroom with a six point shower and a north facing verandah offering a panoramic view of the estate. Modern amenities include a TV, DVD, Satellite receiver, mini fridge, electronic safe and a Tea/Coffee maker. Adequate light and ventilation has been provided with insect screens on all openings. Approach is from an inclined walkway with railings, ensuring easy access for even the elderly. "Tranquilitree" is a stone's throw from the main house and is connected by intercom. Back-up generator power has also been provided.
Green Gates, Wayanad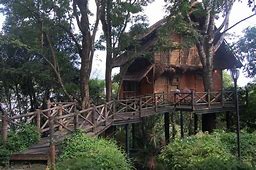 Green Gates Hotel has only one Tree House & is set amidst its manicured garden. It is set 20 feet above the ground. The Tree House is completely made out of bamboo to avoid deforestation & even the staircase that leads to the Tree House is made out of bamboo steps. The Tree House is designed & executed by the master craftsmen of Wayanad. The living cum the bedroom is tastefully done & has wooden flooring. The bedroom has a mezzanine floor which can comfortably sit 2 to 3 people & the view here through the window is of rocky hill & is mesmerizing. The bathroom compliments the bedroom but without missing out on any of the present time comforts for our patrons. The bathroom has anti skid flooring in pebble terracotta shade & it even has a bath-tub. When you feel like stretching your legs & long for more outdoors + fresh air; just step out of your Bamboo Tree House & what do you have – two sit-outs at 20 feet above the ground. Both these sit-outs offer great but different views of our manicured garden.
Edakkal Hermitage, Wayanad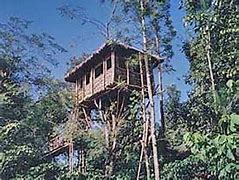 Our cottages are named after various Paleolithic caves sites of repute from around the world. We have christened the tree house "Wadi Kubbaniya" --- an adventurous sounding name that has been borrowed from one of the cave sites in Egypt, Africa that dates back to 17000 BC
Stream Valley Cottages, Wayanad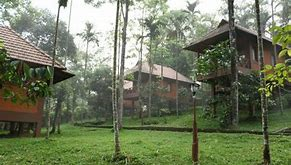 High above the trees, caressed by the gentle breeze, we give you a chance to share some time with the birds and the squirrels. All of usl would have childhood memories of climbing trees, but to spend a night or two on a tree top is surely going to be a once in a lifetime experience. These tree huts, built in our beautiful resort in Wayanad, are exclusively for honeymoon couples or couples without kids.
Vythiri Resort, Wayanad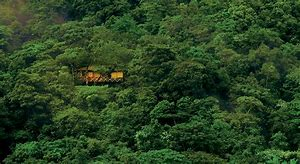 4 Tree houses (including 1 exclusive child friendly Tree House) set high above the lush canopy of the rainforest. Built by indigenous tribals with locally available materials, the cottages are designed to utilize natural spring water that flows down from the surroundings hills and to use solar energy for power. The ultimate jungle retreat, ideal for couples and for small families.
Green Magic Resort, Wayanad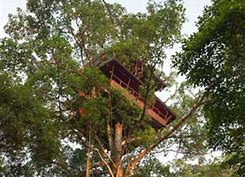 A totally dedicated Eco-lodge and ethnic houses built on trees with all basic facilities. Half an hour drive by jeep from Vythiri through coffee and spice plantations leads to the location of treehouse. There are only four double rooms in two treehouses in 500 acres of private secondary forest. The 'treehouses' has two double bedrooms one above the other at a height of 100 feet. Each has an attached bathroom with flushing toilette, telephone shower, wash basin with running water, carpeted veranda and sit-out. The access to the house is by a hanging bridge. The Houses are made of Eco-friendly materials.