Neyyar
Neyyar Reservoir is a scenic picnic spot, 32 km south east of Thiruvananthapuram city. The reservoir offers excellent boating facilities. A wild life sanctuary is also associated with the dam. The forests around the reservoir are the adode of elephants. On the upper reaches of the Neyyar Reservoir there are two magnificent waterfalls. A trek of two km through dense forests, one would reach Meenmutty water falls and after two km the Kombaikani water falls.
Bhoothathan Kettu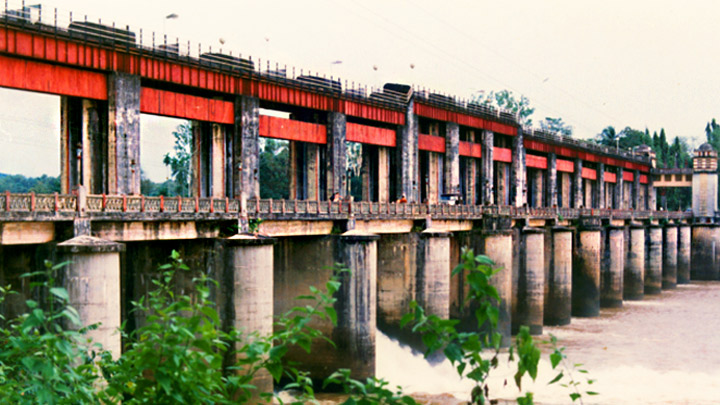 Bhoothathan Kettu, at Kothamangalam, Ernakulam District, Kerala is the perfect getaway for the nature freak. Forests to trek in, birds to watch, a river for boating, rapids to shoot, a lake to fish in, and much more, provide the perfect holiday for the nature loving tourist. Tall mountains, a calm lake, the river Periyar and an all-encompassing forest meet at Bhoothathan Kettu to make it a tribute to nature. Bhoothathan Kettu is 100m above MSL and has a very moderate climate. At Bhoothathan Kettu a nature loving tourist can enjoy a cruise through a tranquil fresh water lake, trek through deep green reverie forest in search of remnants of bygone civilizations, go for an adventure expedition down the turbulent Periyar reenacting the old route, take a cool dip in fresh clean water coming down a mountain where the 'Neelakoduveli'-a life-giving herb- is said to grow and much more. All this is located just 50 km. North east of Kochi and a 35 km. drive from Kochi International Airport.
A myth associated with the place explains its name and how it came about. According to it Bhoothams (evil spirits/ghosts) wanted to destroy the temple at Thrikariyoor dedicated to Lord Shiva. They decided to flood the region by damming the river Periyar. To do this the Bhoothams rolled down massive stones from the surrounding hills into a narrow portion of the river. Lord Shiva, realizing their intention came up with an ingenious plan to deter them. Ghosts being scared of daylight, he tricked them into believing that morning had arrived. To do this Lord Shiva imitated a rooster's crow, the most common announcement of dawn's arrival, on hearing which the evil spirits fled, leaving the dam incomplete. Visitors can see the structure downstream from the present dam. Hence the name Bhoothathan Kettu (fort of the spirits). Later, this natural topography helped in building a dam here.
Getting there
Nearest railway station: Aluva, about 44 km and Ernakulam Junction, about 58 km Nearest airport: Cochin International Airport, about 37 km
Location
Latitude: 10.14284, Longitude: 76.654828
Malampuzha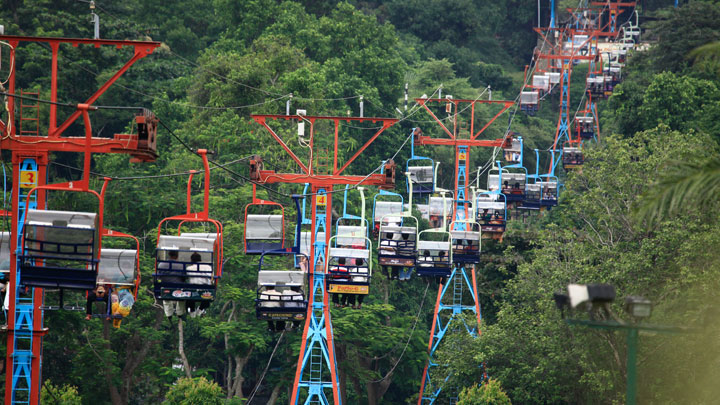 Malampuzha exudes the charm of harmony in nature, a perfect synchronization of the grandeur of the mountains blending with the music of the rivers. It is 10 kms from Palakkad. The garden complex at Malampuzha draws the largest holiday and weekend crowds to Palakkad. The children's park with a toy train, a miniature zoo and an aquarium housed inside a fish shaped building; await the pleasure and delight of children.
There is a swimming pool and facilities for boating in the canal and in the reservoir. A small garden in Japanese style, gives a touch of exotic charm to the landscape. So too does the hanging bridge across the canal. The only ropeway in south India is another attraction of Malampuzha garden. The ropeway is equipped with 64 chairs each with the capacity of two persons. Other items of interest in the park are the imposing concrete sculpture of Yakshi, the divine enchantress, by the renowned sculptor, Kanai Kunhiraman.
Contact Details:
Malampuzha Garden, Ph: +91 491 2815295
Getting there
Nearest railway station: Palakkad, about 9 km Nearest airport: Coimbatore International Airport, about 67 km and Calicut International Airport, about 106 km
Location
Latitude: 10.831957, Longitude: 76.682968
Idukki Arch Dam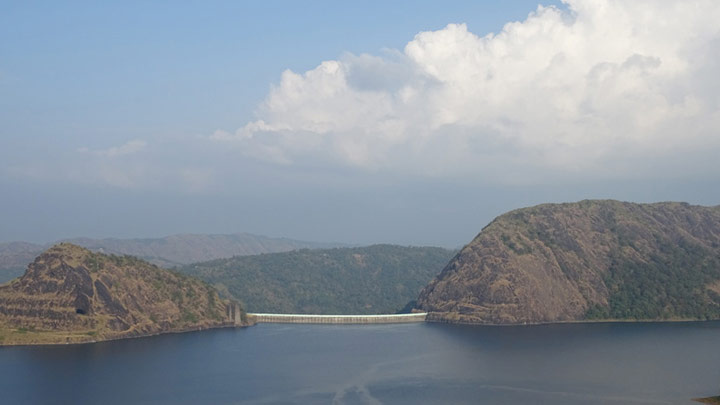 A parabolic marvel, aloft at 550 ft and spread out over 650 ft, greets visitors at the Kuravan and Kurathi Hills in Idukki. You have now reached the Idukki Arch Dam, the second in the world and first of its kind in all of Asia. The sight itself is awe-inspiring, considering the sheer magnitude of the structure and the purpose it serves. Nearby lies the Idukki Wildlife Sanctuary where one can seek solace in nature.
Getting there
Nearest railway station: Kottayam, about 109 km Nearest airport: Cochin International Airport, about 99 km
Location
Latitude: 9.844392, Longitude: 76.977653
Aruvikkara Dam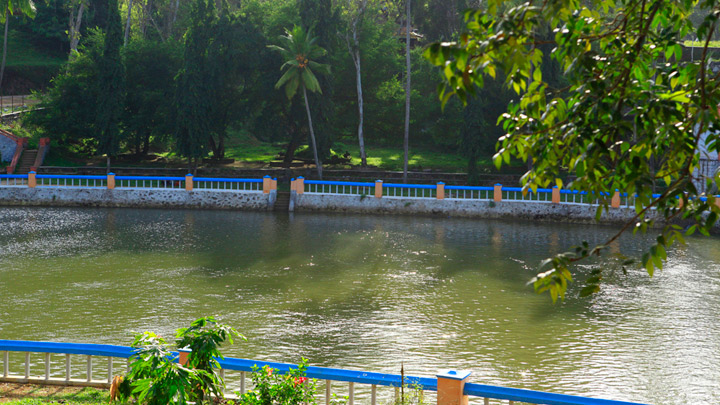 Near a beautiful Durga Temple lies a stream where people can be regularly seen feeding fish who pop up close to the shore. Visitors stroll around leisurely the pristine picnic spots. These are some of the visuals one sees at Aruvikkara Dam. Located on the outskirts of Thiruvananthapuram City, whose water supply it is responsible for, Aruvikkara is ideal for a weekend drive from the State capital. The serene Karamana River invites you and a fun filled jaunt is guaranteed on every trip here.
Getting there
Nearest railway station: Thiruvananthapuram, about 16 km Nearest airport: Trivandrum International Airport, about 23 km
Location
Latitude: 8.57559, Longitude: 77.025461
Kakkayam Dam, Kozhikode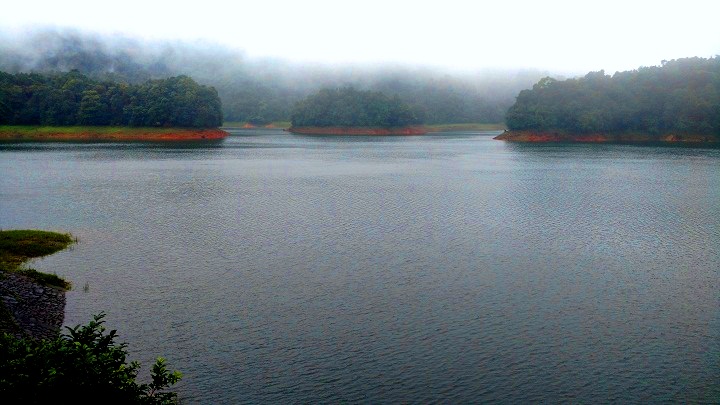 Kakkayam is a stunning dam site in Kozhikode that is famous for its trekking trails and boating options. This lesser known spot gives one the opportunity to explore some exquisite trails that are sprinkled around the area. Boating rides here give one an exclusive view of the dam area along with a bunch of small waterfalls and dense forests. It is the perfect place to have a quiet secluded picnic with your loved ones.
Getting there
Nearest railway station: Kozhikode, about 66 km Nearest airport: Calicut International Airport, about 87 km
Location
Latitude: 11.554708, Longitude: 75.922966
Mangalam Dam, Palakkad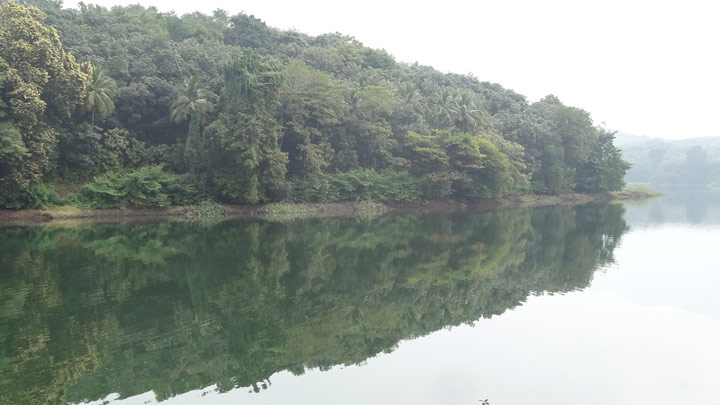 Among the gems of Palakkad district is the Mangalam Dam, built across the Cherukunnath River. The reservoir attracts people in large numbers due to the surrounding forest area. The dense canopy, along with a large number of diverse floral and faunal species, makes it a must-visit site in these parts. Take a boat ride or find a comfortable spot to sit and relax, as this secluded spot has something new to offer on every viewing.
Getting there
Nearest railway station: Ottappalam Railway station, about 50 km Nearest airport: Coimbatore International Airport (Tamilnadu), about 104 km; Calicut International Airport, about 146 km
Location
Latitude: 10.507898, Longitude: 76.538043
>
Banasura Sagar Dam, Wayanad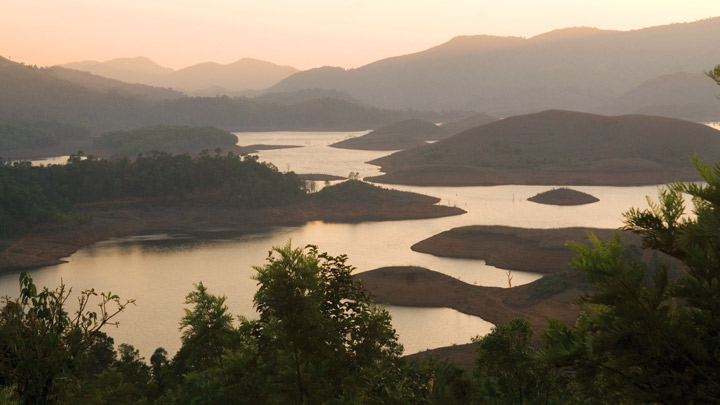 The hills, rivers and grassland, all come together to enshrine the magnificent Banasura Sagar Dam in Wayanad. One has no option but to be in awe of the largest earthen dam in India and the second largest in Asia. But it isn't just statistics that add to its mysticism. The surroundings are pristine with a cool breeze opening up a valley full of gigantic slopes, crystal clear waters, a wildlife sanctuary and a plethora of flowering plants. It is among the most popular picnic locations in the district along with its multitude of boating options. Our trekking aficionados can find more than few hidden trails that lead to spots with exquisite visuals of the surrounding valley.
Getting there
Nearest railway station: Kozhikode about 73 km away from Kalpetta Nearest airport: Calicut International Airport, about 86 km from Kalpetta
Location
Latitude: 11.675268, Longitude: 75.958757
Pazhassi Dam, Kannur
An ideal retreat for tourists, the Pazhassi Dam is located 37 km east of Kannur district in Kerala. The dam site is famous for its scenic beauty. The DTPC provides pleasure boating facilities at the reservoir. Accommodation is available at the Project Inspection Bungalow.
Getting there
Nearest railway station: Kannur, about 37 km Nearest airport: Calicut International Airport, about 139 km
Location
Latitude: 11.981142, Longitude: 75.607896