People And Lifestyle - A Rich Culture In A Colourful Cradle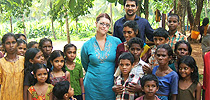 "Kerala is a puzzle because the relatively high quality of life there simply doesn't fit with the tenets of economic science. It's an absolute non sequitur that people could be happy and satisfied at consumption levels which are half that of Haiti." Will Alexander, Professor at CaliforniaPolytechnicStateUniversity
Red, green, white and flashes of gold. These are the colours of a Malayali, a chaste identity roosting in God's own country. The uniqueness is in the art and architecture of Kerala, in her music and poetry, in her dance and drama, and then in its people. Denizens of varied topography, of sand and sea, of tropical and artic, all nurturing a universal cult of brotherhood in this leaf-shaped land of Kerala. They say that if you want to see beauty, come India. We say, if you want to see Indian beauty, come Kerala. Those big, innocent eyes that reminds always that this is not the end, the wheatish appearance that reminds one of the dusk, those riotous long hair united with a fragrant 'gajra' (string of jasmine) that lends an extraordinary elegance to the person wearing it. Look at those men. Tall, dark, handsome, and curled hair together with their sporty looks..all these only add colour to a perfect holiday vacation. You come, you see and you will be impressed by the technological simplicity of the culture along with the cheerfulness of the people, seemingly out of all proportion to their material wealth.
It Is All About The People of Kerala
History tells us that the earliest inhabitants were animists. Some aboriginal tribes who could be the descendents of these early people, still live in the jungles and mountain retreats, living off the produce of the forest - collecting honey, snaring birds, making baskets - and doing some subsistence farming. Others enjoy a unique cosmopolitan outlook. Malls, money, massages, mohini. Still there are others who like to spend their time spinning coir in their courtyard and leave their children to take the cattle for a graze. Like to? Well they have to. Otherwise there will be no fire to bake the bread. A unique blend of moneyed and meager. Isn't it?
Yet in terms of quality of life, Kerala is an astonishing success story. In contrast to the rest ofIndia and most other low-income countries, Kerala has hundred percent literacy and this has resulted in greater health care opportunities and health awareness among the people at levels close to those in the West. Women in Kerala are generally far better off than women in the rest of India. The women in the state enjoy high social status mainly due to the historical matrilineal system, known as Marumakkathayam, which allows women to inherit the family property. Moreover, higher education and equal opportunities have given the women of Kerala a certain independence of spirit.
The Malayali Style Quotient
Plan a holiday trip in summers and you can be a part of the much-hyped Kerala festivals. People wake up in the morning and take their kids for a bath. The morning ablution follows with a Surya Pranam (pray to sun). Then comes the colours. Red, green, white a flashes of gold. Women in bright embroidered sarees and glittering jewelleries designing beautiful floral patterns in the courtyards. Kids in colourful dresses playing hide and seek in the gardens. Men dressed in the traditional 'Kasavu Mundu', a three to four meter long cotton twin cloth with silk border, greeting each other with 'namaskaram' (a way of greeting/hello). In the evenings, the whole house illuminates with the radiance of earthen lamps, simplicity and cordiality.
Culture And Tradition In A Fist
The beauty of a Malayali family lies in the way they live. They usually prefer to live together with their spouses and offspring in one homestead and under the authority of the eldest member. They are brought up in an ambiance of love since their childhood and hence they bestow the same, and sometimes even more, to all overlooking trivial constraints like caste, creed and colour. They begin their day by touching the feet of the elders and pray for universal happiness before going to bed. Even then, they spend their afternoons playing cricket and their evenings drinking toddy. Really, the string by which they hold their cultural values and social traditions is awe-inspiring. Remember to remove your shoes before entering a house, especially if that belongs to a brahmin. The mansions are not overwhelmingly decorated, but still inject a charm in the air. It is not surprising that it might belong to a millionaire. Simple, modest and cozy. That is the definition of their stay.
The Beauty of Blending
So, this is Kerala. A land which lies outside the contours of economics. Here people might not understand the complexities of life but still they know how to enjoy life. At every turn of this mortal voyage, you will find Malayalis creating new strands of fraternity everywhere. You will find them as far as Middle East and south-east Asia, like Indonesia and Malayasia. Such is the art of friendship. Such is the art of blending with foreign cultures. And after that you have heard so much about this palm-fringed land, it is difficult to hold yourself planning a holiday in God's own country.
Lifestyle
Kerala, the land famed for its spices, is known for welcoming people and cultures from far off lands and co-existing with them in harmony. Prior to India's independence, during the time of the princely states, the people of Kerala showed keen interest in education. Library movements and English medium schools set the tone for drawing more people to undergo formal education. This in turn, contributed to economic and social advancements in the society. Girls never faced any discrimination in education and were equally encouraged like boys.
The State once had a thriving agrarian culture and there used to be a time when the whole lifestyle of the people was influenced by agrarian practices, produce and seasons. Families in Kerala were once known for its matriarchal system. There was also a period when families jointly shared spaces and resources. But nowadays, this practice is fast getting replaced by nuclear families, the reasons of which has mostly to do with social and economic conveniences. The traditional dressing of Kerala is marked by dhothi or mundu and shirt for men. Mundu and neryathu with kasavu (golden brocade) worn over a blouse is the traditional wear for women belonging to the Hindu community. Women of Christian faith wear a blouse called chatta and a mundu marked by a fan like folding at the back. And the women belonging to the Muslim community, mostly in the central and northern parts of Kerala usually wear a long purdah. Nowadays sarees, salwar-kameez and salwar with churidhar have become quite popular dress options for women. Modern trends in dressing is also fastly catching up with people of all age groups and gender in Kerala. When it comes to food habits, members of the Hindu community, on special occasions like birthdays and marriages prepare traditional vegetarian feast called sadhya, which is served on plantain. For the Muslim community, it is Malabar biriyani that is served during festival and special occasions, while those following the Christian faith celebrate their auspicious and special occasions with dishes like appam, chicken and beef dishes, wine and cakes. On normal days, Keralites have idli, appam and puttu for breakfast which is made from rice. And for lunch they prefer to have rice, fish and vegetarian side-dishes like aviyal, thoran, sambar and puliseri which is also quite popular. Celebrations in Kerala is marked by festivals and fairs. Its people, predominantly belonging to the Hindu, Christian and Muslims faiths, have co-existed through brotherhood and progressive thoughts. Being the case, festivals in Kerala are occasions for coming together of different religious faiths. Some of the age-old rituals and traditions of Kerala involve the presence and combined efforts of people from different religious faiths. Kerala is one of India's most progressive States in terms of social welfare and quality of life. It has one of India's highest literacy rates, highest life expectancy and lowest child mortality rates. The literacy rate of women is one of the highest in Asia. Over the years, the people of Kerala have migrated to different parts of the world in search of jobs, study purposes and they even have settled down in foreign lands with their families. Enjoying a unique cosmopolitan view point, the people of Kerala, at all levels of society, have greater access to services and opportunities as well as a greater say in their governance.