Kerala Hoseboat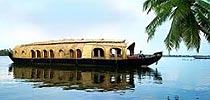 The houseboats are huge, slow moving, exotic barge used for leisure trips. They were once known as kettuvalloms. The original kettuvalloms were used to carry tonnes of rice and spices - a standard kettuvallom can hold up to 30 tonnes - from Kuttanad to the Kochi port. But now the appearance of it has been changed a lot to transform it to a floating paradise. The kettuvallam or boat with knots- was so called because the entire boat was held together with coir knots only - not even a single nail is used during the construction. The boat is made of planks of jack-wood joined together with coir. This is then coated with a caustic black resin made from boiled cashew kernels. With careful maintenance, a kettuvallom can last for generations.
A portion of the kettuvallom was covered with bamboo and coir to serve as a restroom and kitchen for the crew. Meals would be cooked on board and supplemented with fresh fish from the backwaters. Today, the tradition is still continued and the food from the local cuisine is served by the Kuttanad localites, on board. Now these kettuvallams attract many from around the world. While converting kettuvallams into houseboats, care is taken to use only natural products. Bamboo mats, sticks and wood of the aracanut tree are used for roofing, coir mats and wooden planks for the flooring and wood of coconut trees and coir for beds. For lighting though, solar panels are used. Today, the houseboats have all the creature comforts of a good hotel including furnished bedrooms, modern toilets, cozy living rooms, a kitchen and even a balcony for angling. Parts of the curved roof of wood or plaited palm open out to provide shade and allow uninterrupted views. While most boats are poled by local oarsmen, some are powered by a 40 HP engine. Boat-trains - formed by joining two or more houseboats together - are also used by large groups of sight-seers
Some common facts about houseboats
Timing: Check in time 12.00 noon Breakfast 07.30 am Lunch break 02.00 pm Next day staring time 8.00 am Evening tea/coffee with snacks 04.30 pm Check out time 09.00 am Night stopping time 06.00 pm Total Cruise time 21.00 hrs Dinner 8.30 pm Total Sailing time 06.00 hrs
Night stay location
On the backwater side
Air Conditioning
: In deluxe A/c boat air conditioning will work from 09.00 pm to 07.00 am (10 hrs) only.
Route
: Start from Boat by 12 noon and moves towards the backwaters of Aleppey & Kumarakom. A unique experience to explore the traditional Kerala Village life. The sightseeing includes paddy fields, coconut farms, temples and churches, small islands etc. and next day return back to check out place through a different route.
Food Menu
: The menu furnished below is a standard one which is included of house boat price. Other South Indian, North Indian, Chinese and continental items are also available on request according to availability, but billed separately.
Welcome Drink
Tender Coconut Juice /Pineapple Juice
Lunch
Veg : Rice Aviyal (mixed semi dry) Sambar Thoran Mezukupurati (dry fry) Pappad Pickles Curd Salad Non veg : Fish Fry (traditional Kerala style)
Evening
Coffee /Tea Banana Fry /Finger Chips /Veg Pakwada)
Dinner
Veg : Rice Chappati Dal Fry Rasam Alu Geera/Alu Gopi Mixed Veg Curry Two other veg dishes Salad Non veg: Chicken curry
Breakfast
Iddily/Dosa with Sambar and Chutney OR Iddiyappam/Appam with Egg Curry/Veg Stew OR Poori baaji OR Puttu with Chana Masala OR Continental