Wonderla Amusement Park, Kochi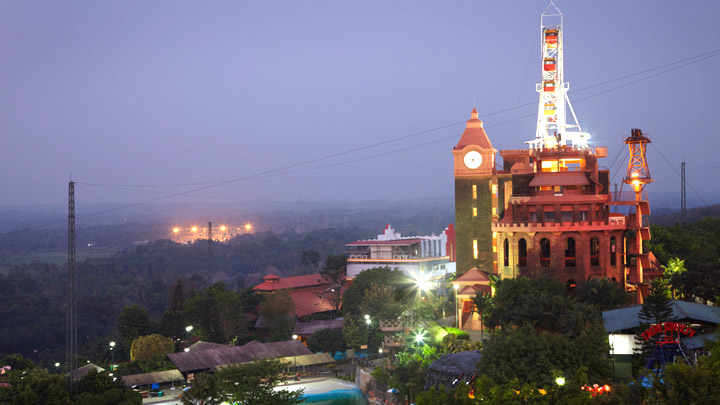 Established in the year 2000, this V-Guard Group venture has, over the years, become a landmark in entertainment in kerala. Located at Pallikara, 14 kms from Cochin City, Wonderla is a state-of-the-art amusement park of international standards, set amidst breath-talking natural beauty. This park, a magnificent blend of Nature, Art and Technology is trucked away in lush green hill. Designed to the eco-friendly, Wonderla is the first amusement park in India to get ISO 14001 and OHSAS 18001 (for safety) Certification, awarded by London based BVQi, For Conserving natural resources and protecting nature. Wonderla offers over 50 full-filled rides that provide non-stop entertainmentthroughoutbthe day to its Visitors.Park time for week dayas 10.30 am - 6.30 pm and Saturdays, Sundays, Public Holidays & Festival Seasons at 10.30 am - 7.30 pm
Getting there
Nearest railway station: Ernakulam, about 15 km Nearest airport: Cochin International Airport, about 30 km
Location
Latitude: 10.02802, Longitude: 76.392202
Dream World, Athirappilly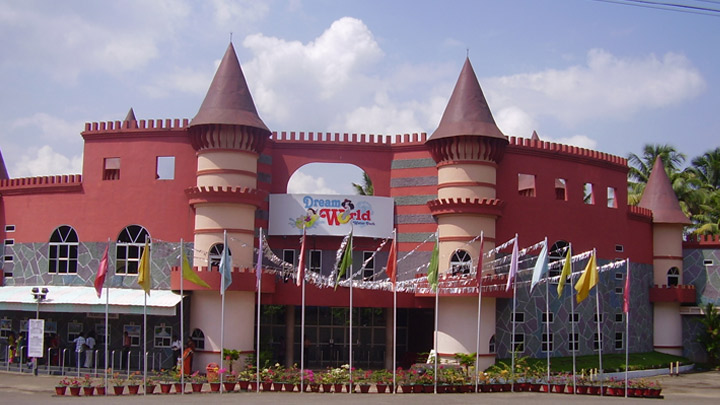 Dream World, the most modern man made sophisticated Water Theme Park is situated on Athirappilly route very near to the magical natural beauty of Athirappilly.The layout of the park is designed in such a way that tourist belonging to any age group can effortlessly reach all the rides without much walking or climbing. The visitors can go to any nook and corner of the park without foot protection as the whole area is either covered with paving tiles or lawn that can be seen rarely at any similar parks. Many of the tourists repeatedly visit our park, as there is no other park in Kerala with such unique water rides. At least 5numbers of water rides are newly introduced in Dream World that cannot be found in any other park in South India.
Getting there
Nearest railway station: Chalakkudy, about 11 km and Thrissur (Main Station), about 39 km Nearest airport: Cochin International Airport, about 31 km
Location
Latitude: 10.306137, Longitude: 76.401615
Silver Storm Amusement Park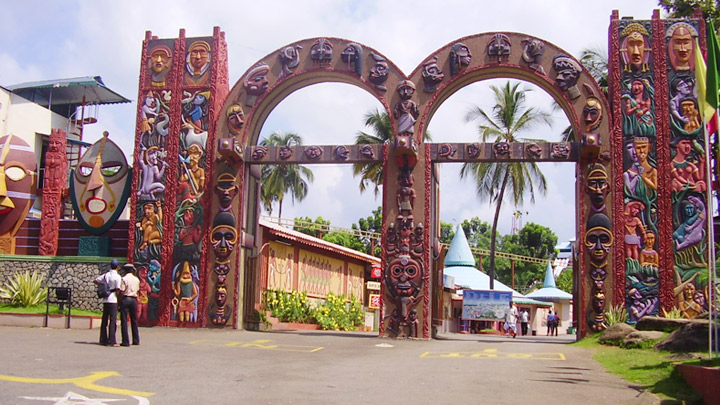 With the Athirappally Waterfalls acting as the picture-perfect backdrop, the Silver Storm Amusement Park in Thrissur district proudly stands out as one among the finest of its kind in God's Own Country. It is famous for introducing a plethora of unique rides and attractions to the Southern coast of India. These including Go-Karting through an adventurous track, a 20 ft. extravaganza on the popular Flying Dutchman and Bumping Boats that tend to give one an unimaginable adrenaline rush. A visit here is always a wonderful experience, compounded by the neat and well maintained grounds, efficient service and delicious food options.
Another special site here is its Striking Cars. The only ones in the State with a scientifically crafted spherical design, it is controlled via joystick controls instead of the steering wheel, which makes the entire experience more enjoyable. Other major draws here include Surf Hill, Kids Super Slide, Kiddies Body, Kiddies Turbo, Kiddies Free Fall, Lazy Mountain River, Kiddies Dry Games, Master Blaster, Hara Kiri, Wild Raft Ride and a majestic Wave Pool. Renowned for their thrill factor, each of these rides will surely ensure that you and your loved ones will have a wonderful day.
Getting there
Nearest railway station: Thrissur, about 63 km Nearest airport: Cochin International Airport, about 30 km
Fantasy Park - an amusement park in Malampuzha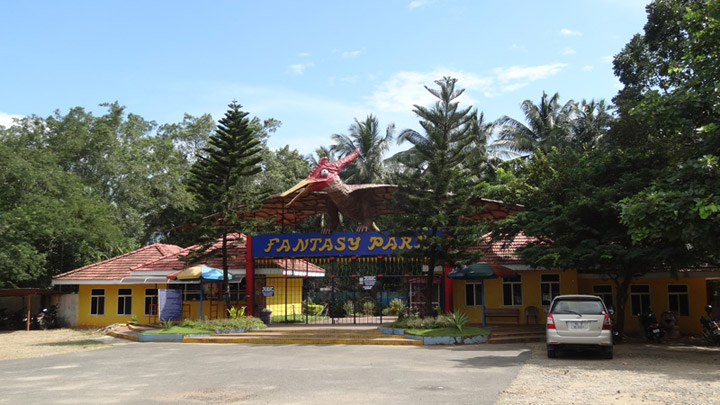 Fantasy Park is among the finest amusement parks in Kerala, with the magnificent Western Ghats acting as the backdrop. Located in Malampuzha in Palakkad district, one gets to enjoy a wide range of rides here. People love the water exhibits in this well-maintained park. The land rides are famous as well and some of the fan-favourites include: Super Splash, Harakirri, Zip Zap Zoop, Striking car, Para Trooper, Dragon Coaster and the Pirate Boat. The Wave Pool is among the biggest in Kerala and is among the most crowded spots in the entire park.
Along with rides like Water Blasters and gigantic water tubes, one can even take a heavenly dip in the MalampuzhaFalls itself. A visit here is incomplete without visiting the majestic planetarium, where young and old can together gaze in awe at the stars.
Getting there
Nearest railway station: Palakkad, about 10 km Nearest airport: Coimbatore in Tamilnadu, about 55 km
Location
Latitude: 10.873768, Longitude: 76.667633
Vismaya Infotainment Centre in Kannur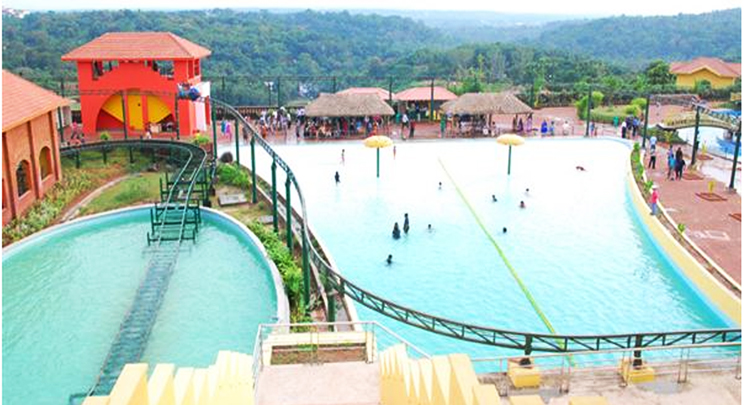 Inside a 70 km radius of Bekal Fort, Parassinikkadavu Temple and Pazhassi Dam is one of Northern Kerala's finest urban attractions, the Vismaya Infotainment Centre. It's state-of-the-art and well maintained facilities compliment the fact that its Water Park is the only one of its kind in India to be promoted by a Co-operative Society. The entertainment options are countless, with children and adults alike partaking in its land rides, water rides, thrill rides and special kid's rides. It has a world class conference hall and dormitory facilities as well. Over 30 acres of pure unadulterated fun await all our visitors!
Contact Details
Getting there
Nearest railway station: Kannur, about 13 km Nearest airport: Calicut International Airport, about 135 km
Location
Latitude: 11.990545, Longitude: 75.394145
Sarovaram Biopark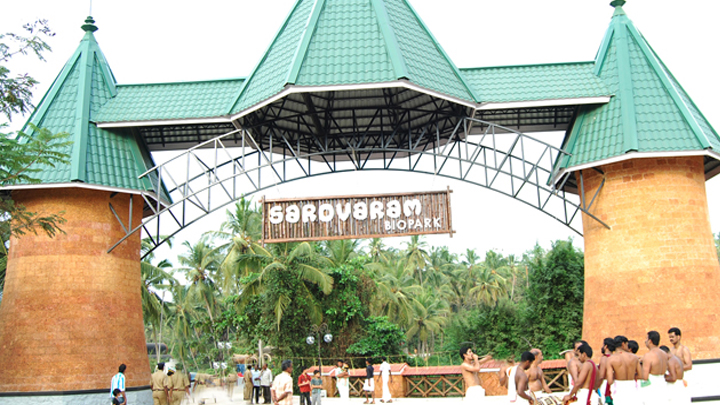 Sarovaram Biopark is an eco-friendly park started with the aim of the conservation of mangrove forests and wetlands. For close to 10 years, this park has let people immerse themselves in the warm embrace of nature. The canal walkway, boating facilities, otter park, butterfly park, bird sanctuary, aquarium, floating rafts, board-walk, park, musical fountain and open air theatre act as constant reminders to how conserving these endangered areas can lead to the formation of masterpieces. Over 200 acres of protected land, waiting to be explored by anyone seeking a change in their daily routine for a nominal fee await you here. The next time you're in the Kozhikode area, Sarovaram would definitely add flavour to your itinerary.
Getting there
Nearest railway station: Kozhikode (Calicut), about 6 km Nearest airport: Calicut International Airport (Calicut), about 31 km
Location
Latitude: 11.268741, Longitude: 75.792720